T. Belman. Remember Rolling Stone spouts the deep state line.
A new report highlights the threat posed by those who deny the validity of U.S. democracy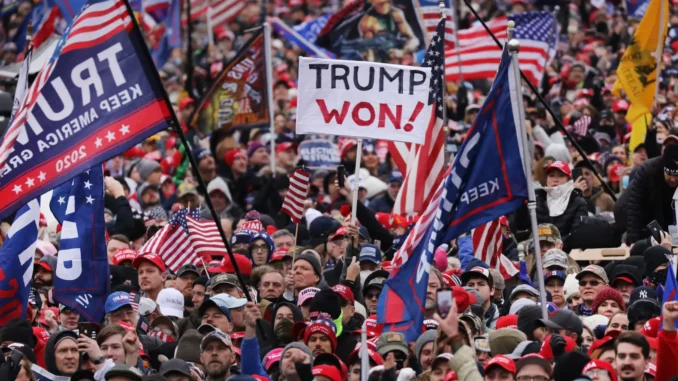 Crowds arrive for the "Stop the Steal" rally on January 06, 2021 in Washington, DC. (Photo by Spencer Platt/Getty Images) GETTY IMAGES
FULLY ONE-THIRD OF U.S. states have election deniers in some of the highest positions overseeing elections. That's according to a new report from States United Democracy Center highlighted by Mother Jones.
Although many election deniers lost their races in the 2022 midterms, States United, a non-partisan organization, found that a total of 23 election deniers now hold statewide office positions that give them influential oversight over elections in 17 different states. This includes seven governors, five secretaries of state, and 11 attorneys general.
In the state of Alabama, election deniers hold all three of those powerful positions. Gov. Kay Ivey has claimed the left "stole" the 2020 election from Donald Trump, and Attorney Gen. Steve Marshall has refused to acknowledge that Joe Biden was "duly" elected. Alabama Secretary of State Wes Allen has perpetuated false claims of voter fraud and supported Marshall's endorsement of a suit filed by Texas claiming widespread voting irregularities in the 2020 election.
"From inside the halls of government, these Election Deniers are using their powers to weaken free and fair elections," the center wrote in its report.
Many of these election deniers used election lies, including false claims of widespread voter fraud, to fundraise for their campaigns. Nine states have removed themselves from the Electronic Registration Information Center, which was designed to ensure the accuracy of voter rolls. Some election deniers have used their power to limit donations to fund election administration, while others have created or expanded units that prosecute election crimes, despite voter fraud being exceedingly rare. Others have denied the election more subtly, including claims that the indictments against Donald Trump are some form of election interference.
The center defined election deniers as candidates who falsely claimed Trump won in 2020 or attempted to undermine the integrity of the 2020 election, who refused to concede an election themselves or supported another candidate who refused to concede, who called on or pressured election officials not to certify results of the 2020 election or a subsequent race, or who spread election-related conspiracies and lies about 2020 or later elections.
Voter suppression is also on the rise. Since 2020, thirteen states have moved to restrict voting rights around mail in voting. Arkansas, Florida, Georgia, Iowa and Texas all passed laws prohibiting or limiting access to drop boxes for absentee ballots.
Not only are election deniers in positions of power at the state level, there are currently three election deniers running for president in 2024: Florida Gov. Ron DeSantis, radio host Larry Elder and, of course, the election-denier-in-chief, Trump.
---