T. Belman. Israel must look upon Area C like its our land rather than to see it as something that will eventually be returned to the PA. Better still, Israel should bargain for Qalqilya to be evacuated and given to Israel, because it is a thorn in our side, and the residents should me moved to Ramallah, or better still, Jordan.

While were at it we should include all land west of the broad red line. This is the narrowest part of Israel.
Bennett and Shaked slam approval of 14,000 housing units for Arab residents of Area A which will be in Area C. 'We have to promote our own interests – not those of the PA'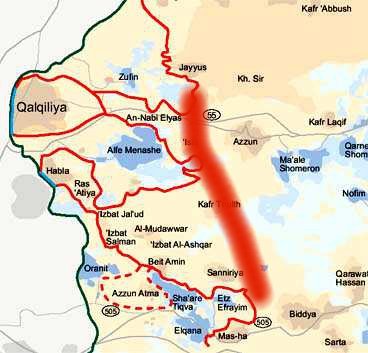 Education Minister Naftali Bennett and Justice Minister Ayelet Shaked responded Wednesday to the publication of 14,000 residential units in Qalqiliya at the expense of Area C.
"We objected to the plan called 'carrot and stick,' which was and remains a program of reward for terror and the promotion of the Palestinian takeover of Area C. There is no doubt that the plan's meaning is stringent against the very limited scope of construction approved by the prime minister for Israeli settlements."

"The Israeli government must promote Israeli interests in Judea and Samaria, not those of the Palestinians. In light of these implications, we will demand a freeze on the plan until the cabinet can discuss it or marketing of 14,000 housing units for Israelis in Area C [is carried out to balance the Arab building plan]," the two said.
Earlier, it was announced that 14,000 housing units for 50,000 Arab residents were approved for construction in Area C, which is under full Israeli responsibility, for the city of Qalqiliya
The move would double the size of the city, located in Area A, at the expense of land in Area C which was intended for Israeli development. The plan would bring the city and nearby Jewish communities far closer together.
At the same time, about 2,000 housing units for Jews were approved by the government a week ago in the entirety of Judea and Samaria. The Jewish population of Judea and Samaria is approximately 450,000.It should be noted that this is a long-term outline – the implementation of which could take up to 35 years – and it has been waiting for about ten years for approval.
The Prime Minister's Office responded by saying that "this is a plan that was brought in by the defense minister last year and approved by the cabinet, and since then, more than 10,000 housing units have been approved for Jewish settlement, and therefore the claim [that the move was taken at the expense of Jewish residents] is incorrect and even absurd."
---