Finance Minister says defense officials acting against Cabinet decision not to deal with issue of who will rule Gaza after Hamas defeated.
Israel National News     Nov 19, 2023, 9:29 AM (GMT+2)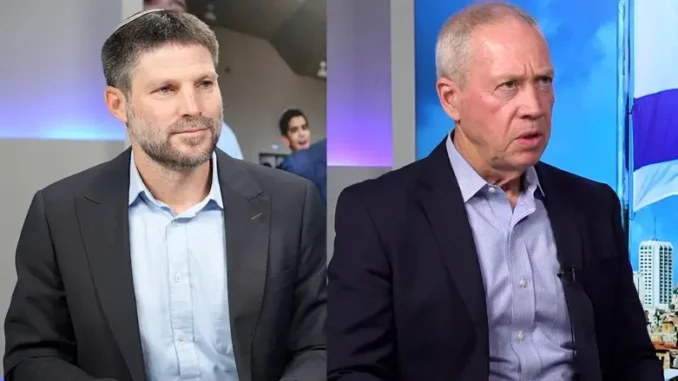 Gallant and SmotrichArutz Sheva
Finance Minister Bezalel Smotrich sent Defense Minister Yoav Gallant a letter in which he claimed that the defense establishment is already planning for "the day after" the war against Hamas and that the officials who are in charge of the issue have adopted the policy of replacing Hamas with the Palestinian Authority as the rulers of the Gaza Strip. According to Smotrich, this goes against the decisions of the Cabinet.
In the letter, which was published by Israel Hayom, Smotrich stated that "From the information I have received, it appears that parts of the security system have begun to formulate the position of the State of Israel for the day after victory in the war. At the political level, they have consciously decided not to deal with the question of 'the day after' at the moment. The Justice Minister and the security establishment do not have the authority to do this themselves, to put the cart before the horse and determine facts on the ground in preparation for the replacement of Hamas by the Palestinian Authority in Gaza."
Smotrich added that "we will deal with the issue of the administration of the Strip after we, God-willing, achieve victory in Gaza. Dealing with this issue and this stage will inevitably cause internal disputes and bring us into conflict with the American government, which will harm our national resilience and degrade our ability to win and achieve our goals in this war. For this reason, I am not currently dealing with the question of the day after. However, I cannot accept a situation in which, while we act responsibly and avoid dealing with questions that may cause controversy, there will be someone who will take advantage of this to promote their own agendas, deal with it from their point of view and put the State of Israel on a dangerous path that will be difficult to extricate ourselves from."
"The IDF and the Defense Ministry must be immediately ordered to cease dealing with this issue and disband the teams established for this purpose," Smotrich said. "Israel after October 7 – is not the same country. Things we held true in the past are no longer relevant. Bodies that were part of and even led the old conceptions [which led to the massacre] cannot be in charge of the efforts to formulate the solutions."
---