Education Minister attacks idea to allow descendants of Arab refugees to settle Judea and Samaria, says they won't stop at Israeli border.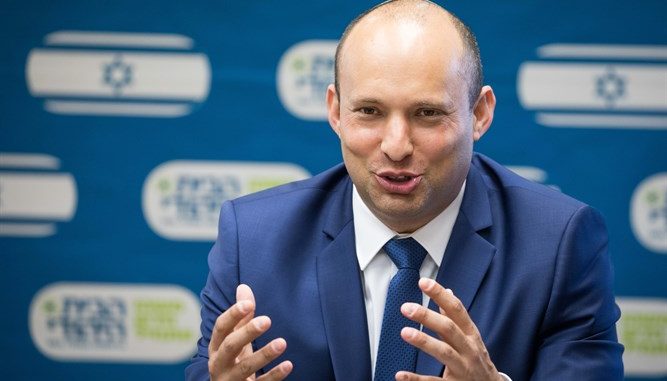 Education Minister Naftali Bennett continued to criticize Defense Minister Avigdor Liberman's plans to allow Arab construction in Area C, under full Israeli control, of Judea and Samaria. In an interview with Arutz Sheva, Bennett declared that Israel would not allow one Arab refugee or descendant of refugees to settle in Area C.
Liberman had previously stated that Israel would not accept a single refugee within the the pre-1967 lines. However, he left open the possibility of Arab refugees and their descendants settling in Judea and Samaria as part of a future Palestinian Arab state.

"The idea of ??importing millions of refugee descendants from Syria, Lebanon and Jordan is a very dangerous idea that will flood Israel with Palestinian refugees. It took 40 years for Zionism to bring a demographic majority between the Jordan River and the sea," Bennett said.
"The solution to the descendants of the refugees – and I emphasize that these are the descendants of the refugees and not the refugees themselves – is to settle them in their places of residence," he added.
When asked about the resistance of Arab Governments to accepting his plan, he said that while that is the current reality, "we do not have to play their game … A person who sits in the Government of Israel should not express himself this way, and therefore we will lead the protest against such a move. My position is very clear – no refugee is going to cross the Jordan. "
"I say that just as we led the government during Operation Protective Edge – against the positions of all the ministers, just as we succeeded in stopping the release of terrorists, so too will our position prevail [now]. I will not allow even one descendant of a refugee to cross the Jordan into Judea and Samaria.
Bennett asked the supporters of the idea of ??resettling the refugees in Judea and Samaria: "Will they stop on Highway 6? And would they not want to 'return' to Jaffa and Haifa?"
He said that the Israeli border with Gaza does not stop the firing of rockets into Israeli territory, and that opening up the border with Jordan to the descendants of refugees will create a demographic disaster which Israel will not be able to prevent.
Addressing the plans to allow the Arab city of Qalqiliya to expand from Area A into Area C, Bennett said: "I have to ask Liberman. I do not speak to him. I respect all my colleagues in the government, but from time to time disagreements arise, and we have to stand our ground. Also, the idea of turning Qalqiliya into a Palestinian metropolis near Kokhav Yair and Kfar Saba – it was an idea that came up – we have to use all our power to prevent this mistake."
When asked if he regrets bringing Liberman into the government, Bennett said: "The alternative was Bogie (Ya'alon) and Tzipi (Livni), and we were right to prefer Lieberman. But we have to stand up for the right positions, and this is what distinguishes us from the supporters of a Palestinian state and the supporters of autonomy. That is what separates us from the Defense Minister and the Prime Minister."
"A Palestinian state can open its gates to millions of refugees from the world, because it is bad for them in Syria and Lebanon, and good in Judea and Samaria, but how will the journey on Highway 6 or on Highway 60 look like when millions of refugees are flooding Judea and Samaria? The idea has to be stopped."
---