By Khaled Abu Toameh, GATESTONE INSTITUTE  •  October 2, 2020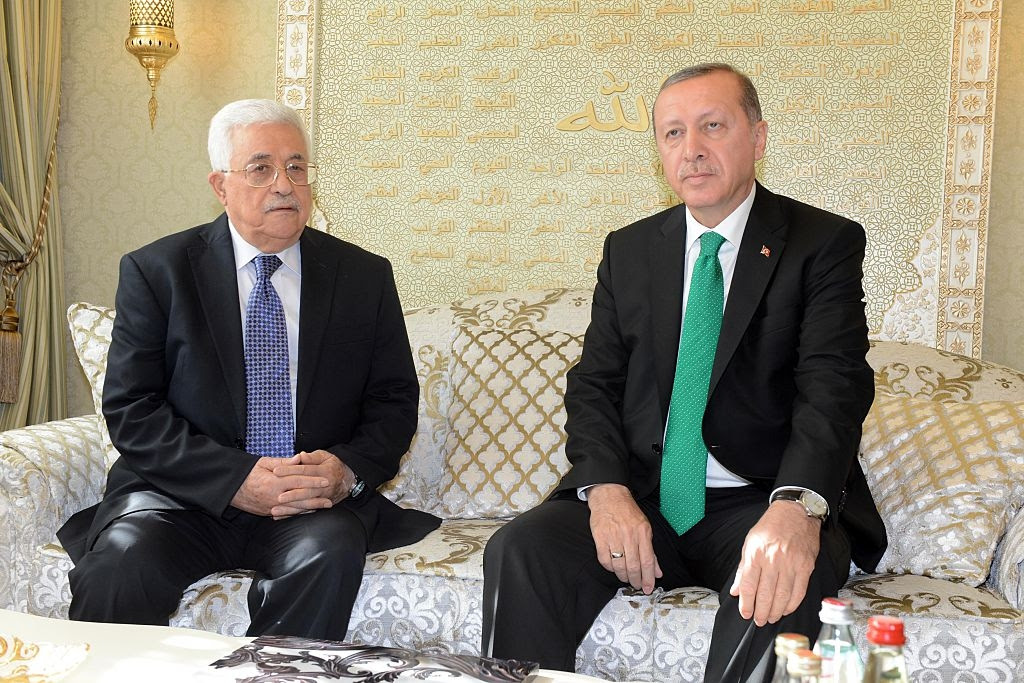 Pictured: Abbas (left) and Erdogan in 2015. (Photo by Thaer Ghanaim/PPO via Getty Images)
What we are witnessing is an Arab autocrat (Abbas) seeking the help of a Muslim autocrat (Erdogan) in holding "free and fair" elections. Abbas, it seems, is confident that Erdogan's observers would rubber-stamp the results of any Palestinian election to ensure that the PA president emerges victorious
Now he [Erdogan] has a chance to use the Palestinian elections to try to bring his Hamas friends to power after getting rid of Abbas.
"It is terrifying that Abbas speaks as if he lives in another world. Is there a Palestinian interest in attacking the US administration, even if this administration takes unfair positions against the Palestinians? Is there a Palestinian interest in referring negatively to the peace accords between Israel and the United Arab Emirates and Bahrain? There is a Palestinian need to return to reality. There is a Palestinian need to come to terms with the truth." — Khairallah Khairallah, Lebanese journalist and political commentator, al-Arabiya, September 29, 2020.
What we are witnessing is an Arab autocrat (Mahmoud Abbas) seeking the help of a Muslim autocrat (Recep Tayyip Erdogan) in holding "free and fair" elections. Abbas, it seems, is confident that Erdogan's observers would rubber-stamp the results of any Palestinian election to ensure that the Palestinian Authority president emerges victorious.
On September 21, Palestinian Authority President Mahmoud Abbas phoned Turkish President Recep Tayyip Erdogan and requested that Turkey send Turkish observers to monitor Palestinian elections, if and when they are held.
The phone call came as Turkey hosted a meeting between Abbas's ruling Fatah faction and the Iran-backed Hamas movement. At the meeting, the Fatah and Hamas reportedly agreed to hold long overdue elections for the PA presidency and parliament, the Palestine Legislative Council (PLC).
Abbas's request surprised many Palestinians and Arabs, especially in the wake of charges that Erdogan had forged the 2018 presidential and parliamentary elections in Turkey. Shortly after the voting ended, thousands of Twitter users launched a hashtag called #Erdogan_forged_election, accusing him of rigging the elections.
Continue Reading Article
---