Road-travel restriction and grounded air transport threaten companies' abilities to produce and deliver goods and services
By Laurence Norman in Brussels and Drew Hinshaw, WSJ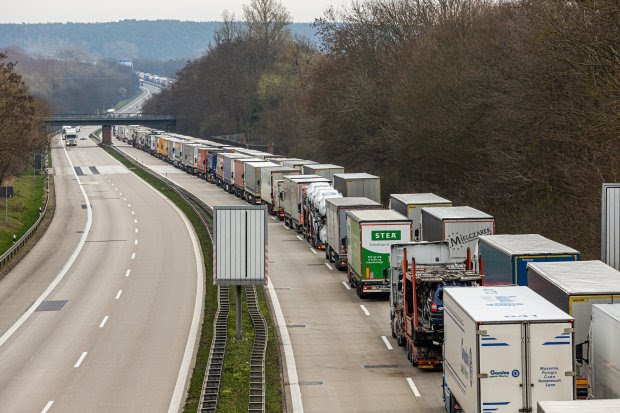 Trucks that once sped across the German-Polish border have been waiting almost a full day to cross.
It took Europe a half-century to integrate its economies. It took the new coronavirus only weeks to roll that back as countries closed their borders.
Across vast fields of the northern Netherlands, the huge springtime flower harvest is wilting because demand has plummeted, export markets closed and seasonal workers can't cross the border. Luxembourg has struggled to staff hospitals because nearly half its workforce commutes from neighboring countries. Trucks that once sped across the German-Polish border have been sitting almost a full day to cross, sparking spats between drivers and riot police sent to contain the virus.
The European Union, the world's second-largest economy, was built on free movement of people and goods. For three decades, Europe's internal market flourished as the bloc expanded and borders fell, bolstering growth. Businesses grew to depend on deeply integrated supply chains and workers who ignore national demarcations inside the bloc.

Coronavirus has suspended that model, upending commerce and communities. Road-travel restrictions, some imposed unilaterally as the pandemic hit this month, combined with grounded air transport, threaten companies' ability to produce and deliver vital goods and services, including food, medicine and pesticides, as well as medical care.
Long Queues as European Countries Lock Down Borders Amid Coronavirus
Created with sketchtool.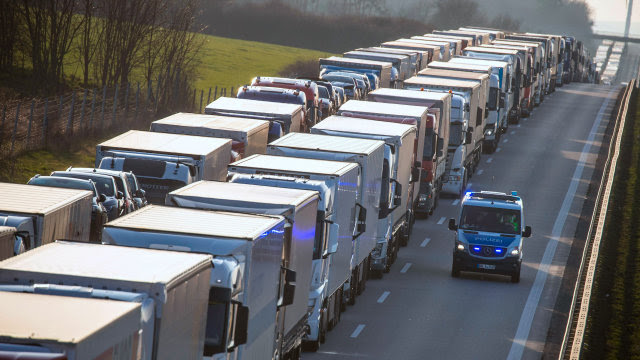 Long Queues as European Countries Lock Down Borders Amid Coronavirus
Some European countries have reinstated national borders in a bid to stem the spread of coronavirus in the region. Goods and medical supplies are currently allowed through, but checks have led to extremely long queues forming along the borders. Photo: Odd Andersen/Getty Images
The bloc's unique structure as one unified market comprising 27 sovereign states—for years a strength—now makes it more vulnerable, business and political leaders say.
"The single market is the greatest advantage of Europe. With a functioning single market we can manage the crisis," said Christian Leitl, president of EU-wide business lobbying group Eurochambres. "With a dysfunctional single market, we will be a victim of the crisis."
Officials fear that if border restrictions linger as the virus fades and commerce resumes, the blockages will cripple Europe's economic recovery
Since Saturday, nearly all European automobile factories have closed, both to prevent workers from spreading the virus and because supply chains were collapsing. Crisis managers in the Czech Republic, a large supplier to Germany's giant car industry, said last week that some closures may remain for two years as cases re-emerge.
As of Thursday, 12 EU countries had closed their borders to nonresidents, and most of the rest had imposed targeted restrictions. Truckers and private citizens trying to drive home must navigate byzantine rules and conflicting edicts. Estonia, Latvia and Lithuania had to send a ferry across the Baltic Sea to Germany to rescue citizens stranded behind closed borders.
"The measures introduced to slow down the spread of the virus have also slowed down and sometimes paralyzed transport," European Commission President Ursula von der Leyen said Monday as she pleaded with countries to facilitate cross-border trade. "Our supply chains in Europe are closely integrated. We need to ensure the free circulation of all goods."
The supply-chain difficulties have hit a range of products. The chemical industry warned last week of critical shortages of disinfectants in some member states because components, including EU-produced propanol, weren't circulating. The Dutch agriculture minister told her European counterparts on Wednesday the bloc could be hit by serious shortages of animal feed and food grains in the fall unless seeds flow across the border and can be sowed in March and April.
Ms. von der Leyen's team is offering members border-control guidelines to allow critical goods and workers through, such as creating fast lanes for vehicles carrying important supplies, offering health care for transport workers and conducting health screenings on only one side of each border. But the commission lacks authority to force countries to reopen borders or pool resources.
Regular discussions have begun and some countries are coordinating measures. Brussels is urging more cooperation.
Within hours of Germany shutting its borders to five neighbors, police there and in Luxembourg agreed on a certificate for commuting German residents to download and print, allowing them to reach work in Luxembourg the next morning. Luxembourg quickly agreed to similar systems with France and Belgium.
Traffic from Germany still crawled, so authorities two days later created signs for commuting workers' cars, allowing them to reach Luxembourg without stopping vehicles.
Meanwhile Luxembourg's government reserved 2,000 hotel rooms and private residences, over a quarter of the country's total, offering free hospitality to foreign-based health care workers and their families who wanted to stay temporarily in the country. Also included: free room-service meals to prevent people mingling. There were 336 rooms taken by Thursday.
Elsewhere the situation shows little signs of improvement, although continent-wide shutdowns of businesses and widespread lockdown measures have eased border congestion.
Even as EU leaders spoke Thursday afternoon to better coordinate their response, 15 border crossings had delays of over an hour, according to Sixfold GmbH, a German company that tracks supply chains. A 15-kilometer line of vehicles was stuck at the Czech-Slovak border.
"This is going to be a long running story," said Raul Eamets, professor of macroeconomics at the University of Tartu in Estonia, whose only land connection to the rest of the EU runs down a thin road through the Polish countryside. "If the road to Europe is closed down, goods will not arrive."
Write to Laurence Norman at laurence.norman@wsj.com and Drew Hinshaw at drew.hinshaw@wsj.com
---