T. Belman.  I am a skeptic. How cab a deal be said to be close when the exzct number and identity of hostages is not known. We are told 50 to 100. Secondly why is Haniyah calling it a "truce"?

Thirdly, " official said there is an agreement that at least 50 people will be freed, while dozens more could be released in exchange for extending a ceasefire beyond the initial few days." This suggests to me that the release of hostages will be over an extended period of time  and for each additional release, more pause days and supplies will be demanded. How can you agree to a deal that isn't specific in which the names and and number of all hostages being included are not fixed. Either it is far too vague or we aren't being told the whole truth.

Remember, Hamas doesn't care about the 300 women prisoners being released. Their ultimate goal is a ceasefire. It needed only hours to secret the hostages away. Why are they demanding and getting a ceasefire period of days to be increased for every additional release. They hope they can drag this out long enough to increase world pressure and to decrease Israel's resistence to a ceasefire.
Palestinians sources say 50-100 civilian hostages would be released in exchange for 300 jailed Palestinians, five-day ceasefire and entry of 300 aid trucks to Gaza Strip
By AGENCIES and TOI STAFF    Today, 10:57 am
Hamas leader Ismail Haniyeh said Tuesday a truce agreement with Israel was in sight, raising hopes that dozens of the hundreds of people taken hostage in the terror group's devastating October 7 attacks could be released.
Palestinian sources said a ceasefire of five days would be accompanied by the exchange of some hostages for prisoners held in Israeli jails.
There was no immediate official response from Israel on the status of negotiation efforts to secure the release of the estimated 240 hostages seized during Hamas's horrific assault.
The majority of the hostages are civilians, some of them infants, young children and elderly people. Only a handful have been released, rescued by Israeli troops or were recovered dead.
"We are close to reaching a deal on a truce," Haniyeh said, according to a statement sent by his office to AFP.
In a similar statement posted to Telegram, the Doha-based Haniyeh said Hamas had given its response to Qatar and other mediators, without elaborating.
Hamas gunmen killed around 1,200 people, mostly civilians, during cross-border raids from the Gaza Strip on October 7 — the deadliest attack in Israel's history.
In response, Israel launched a military campaign to topple Hamas from ruling Gaza and to release the hostages. The intense air, sea, and ground campaign is targeting terror infrastructure which Israel says is embedded among the civilian population. Aid groups have warned of what they say is a growing humanitarian crisis with hundreds of thousands of people displaced and a shortage of basic supplies.
They said the tentative deal includes a five-day truce, comprising a ceasefire on the ground and limits to Israeli air operations over southern Gaza.
Under the agreement, between 50 and 100 Israeli civilian and foreign hostages would be released, but no military personnel.
In exchange, some 300 Palestinians would be released from Israeli jails, among them women and children.
According to the Hamas and PIJ sources, the deal would also allow for up to 300 trucks of food and medical aid to enter Gaza.
Hamas Gaza chief Yahya Sinwar is also insisting on the halt to all air operations, the Walla outlet reported.
While there was no official Israeli confirmation, Channel 12 cited a senior Israeli official Tuesday as saying "we are very close to a deal."
Noting that there are still technical issues to resolve, the official said there is an agreement that at least 50 people will be freed, while dozens more could be released in exchange for extending a ceasefire beyond the initial few days.
Those set to be released are expected to be children, their mothers and other women, Channel 12 said.
Army Radio reported that the IDF Home Front Command's operation division is believed to be preparing for an exchange plan.
The station cited security officials as saying that the IDF would remain in the Gaza Strip and that troops would not be pulled back into Israeli territory during the ceasefire.
A key humanitarian corridor along the Salah a-Din road leading from northern to southern Gaza would remain open to enable residents of the north to evacuate to the south.
However, the IDF will not permit residents who already evacuated to return to their neighborhoods during the ceasefire. The army is working on preparing capabilities to make sure that Hamas does not violate the ceasefire, including by using an extensive tunnel network the terror group dug under Gaza to deploy fighters. Any threat to Israeli forces that is identified will immediately be attacked, the report said, even during the ceasefire.
Education Minister Yoav Kisch told Army Radio, "We must not support a deal that would make us stop the war effort. Hamas will try to give us as few hostages as possible and create a reality in which we cannot continue to pressure it."
The International Committee of the Red Cross said Monday that its president had traveled to Qatar to meet Hamas's Haniyeh. The ICRC said it calls for the release of hostages but is not part of any negotiations.
'We will not stop fighting'
An agreement could bring some respite for Gazans who have lived for more than six weeks with Israel's airstrikes and an expanding ground offensive.
Large parts of Gaza have been destroyed by airstrikes that have numbered in the thousands, and the territory is under blockade, with tight controls over food, water and fuel allowed to enter. Israel has said there is no shortage of essential supplies and accuses Hamas of plundering resources for its military apparatus — fuel, in particular — rather than distributing them to the civilian population. Israeli officials say Hamas needs the fuel to run the ventilation and electricity in its vast tunnel network.
Israel has vowed to press ahead with its offensive, pledging to crush Hamas and ensure the hostages are released.
"We will not stop fighting until we bring our hostages home," Prime Minister Benjamin Netanyahu declared Monday after meeting relatives of those abducted along with the two other ministers in his war cabinet.
Udi Goren, whose cousin is Gaza hostage Tal Haimi, told reporters after coming out of the meeting that the war cabinet did not share any details about any possible deal to release the hostages.
Netanyahu's office has repeatedly cautioned against various media reports regarding the hostage negotiations, adding that it would formally notify the public in the event that a deal is actually reached.
He added that he could not speak publicly about it any further and then raised his hand up to show that his fingers were crossed in the hope that a deal would take place soon.
On Sunday, Channel 12 reported that while Israel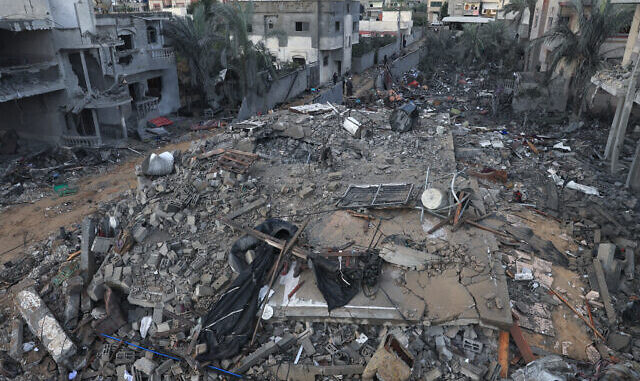 So far efforts by Qatar have led to the release of four of the hostages. A fifth hostage, a soldier, was rescued in an Israeli operation. Israel has also found the bodies of two hostages near the Shifa hospital in Gaza.
The families of hostages have been organizing protests, rallies, and marches to press the government on securing their loved ones' release. On Saturday, families of hostages and thousands of their supporters demonstrated in Tel Aviv's Hostages Square in a rally focused in particular on the some 40 children believed held in Gaza.
According to Gaza's Hamas-run health authorities, more than 13,000 Palestinians have been killed, two-thirds of them women and minors. Those figures cannot be independently verified, and Hamas has been accused of inflating them and of designating gunmen in their late teens as children. It is not known how many among its total are combatants, and how many among the dead were victims of misfired rockets aimed at Israel.
---