Jordanian royal family considers itself sole custodian of Muslim holy sites in Jerusalem • PA President Abbas calls for Turkish involvement, angering Jordan's King Abdullah • Joint committee will formulate security plan acceptable to all sides.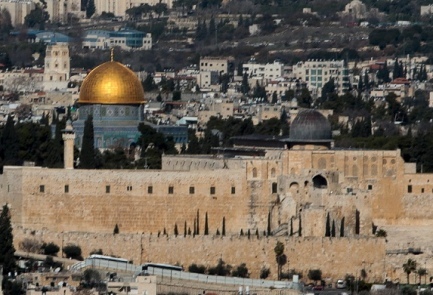 The Temple Mount | Photo credit: Oren Ben Hakoon
Israel and Jordan are planning to form a joint committee to devise security arrangements on the Temple Mount that would be acceptable to all sides, Israel Hayom learned Thursday.
The decision comes amid rising tensions over Israel's decision to install metal detectors at the entrance to the compound in response to the deadly terrorist attack near one of the gates to the Temple Mount last Friday. Muslim worshippers view the security measure as an attempt by Israel to expand its control over the site, which is holy to both Jews and Muslims, while Israel insists the measure is meant only to prevent attacks.
Although the Jerusalem Islamic Waqf, the religious body charged with administering Muslim holy sites in Jerusalem, will be represented in the committee, the Palestinian Authority will not, sparking outrage in Ramallah.
Senior Jordanian officials confirmed the reports. An official declaration announcing the establishment of the committee was expected on Friday, they said, but it depends on how events unfold on the Temple Mount.
The committee will deal with a wide range of issues beyond the metal detectors installed at the entrances to the compound. Among these is the implementation of an arrangement Jordan and Israel agreed upon previously to install a closed circuit security camera system in sections of the Temple Mount complex. The arrangement has not yet been implemented because the Waqf has yet to begin the installation stipulated in the arrangement.
The planned committee is the result of intensive talks between Israel and Jordan over the past week. The U.S., Saudi Arabia and Egypt were kept informed on talks behind the scenes, reportedly causing friction between the Jordanians and the Palestinians, specifically between Jordan's King Abdullah and Palestinian Authority President Mahmoud Abbas. The Palestinians are reportedly angry at Jordan for not coordinating a unified stance with Ramallah in talks with Israel, and are even accusing Jordan of collaborating with Israeli demands in light of the decision to exclude the PA from the Israeli-Jordanian committee.
A senior Palestinian official in Ramallah confirmed these reports. He said that in response to Jordan's snub, Abbas called for Turkish President Recep Tayyip Erdogan to take part in the talks to resolve the crisis. This in turn angered the Jordanian king and his supporters, the official said, as they view the Jordanian royal family as the sole custodians Muslim holy sites in Jerusalem.
Jordanian and Palestinian sources told Israel Hayom that religious leaders from the Waqf in east Jerusalem and the West Bank were ordered to keep a low profile and refrain from statements likely to be perceived as incitement to violence, armed struggle or terrorist attacks.
---