The decision plan: The key to peace is on the right
By JACOB MAGID, TOI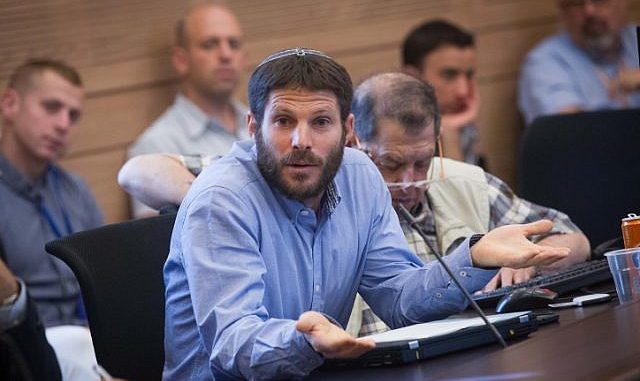 Jewish Home MK Bezalel Smotrich addresses the National Union Conference in Jerusalem on September 12, 2017. (Credit: Hillel Meir and Or Alexenberg)
As a right-wing nationalist conference convened Tuesday to adopt a diplomatic initiative encouraging Palestinian emigration from the West Bank, Prime Minister Benjamin Netanyahu told attendees via video that he was "pleased" they were grappling with Israel's future.
Netanyahu's remarks came in the form of a pre-recorded clip that was played at the opening of the National Union party's first diplomatic conference at the Leonardo Hotel in Jerusalem.
"I was pleased to hear that you are dedicating the discussions at this conference to the future of the Land of Israel,? Netanyahu told the crowd in the video clip.

Netanyahu went on to boast of the state's achievements over the past 70 years, adding, "We are building the land and we are settling it. In the mountains, in the valleys, in the Galilee, in the Negev, and yes, in Judea and Samaria (the West Bank) as well. Because this is our land. The homeland of the Jewish people. The only land promised to our forefathers. We were given the right to settle here. And we must guard it with caution."
"This is what we are doing," he added, concluding with a biblical quote.
A faction within the nationalist Jewish Home Party, the National Union is represented in the Knesset by the Tekuma sub-faction's Agricultural Minister Uri Ariel and deputy Knesset speaker Bezalel Smotrich, both of whom were in attendance on Tuesday.
---