Source: State Dept. ignoring White House edicts, going rogue on key issues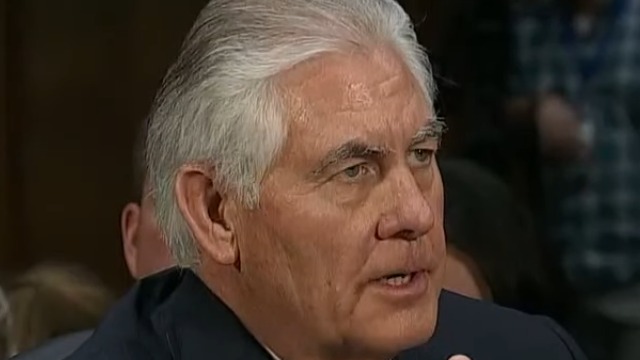 The State Department under Secretary Rex Tillerson has been locked in a growing power struggle with the White House that has angered officials in the West Wing and sparked claims that the Trump administration's top diplomatic organ is now in "open war" with the White House on a range of critical issues, including the Israeli-Palestinian impasse, Iran, the crisis with Qatar, and other matters, according to multiple sources who spoke to the Washington Free Beacon about the situation.
The State Department is said to be in a state of "massive dysfunction," with top officials working under Tillerson ignoring White House directives on critical staffing issues and key policy matters, according to multiple sources, including administration allies who are said to be increasingly frustrated with what is perceived as the White House's inability to control its own federal agencies.
The tensions have fueled an outstanding power battle between the West Wing and State Department that has handicapped the administration and resulted in scores of open positions failing to be filled with Trump confidantes. This has allowed former Obama administration appointees still at the State Department to continue running the show and formulating policy, where they have increasingly clashed with the White House's own agenda.
The latest flashpoint in this growing civil war is Israel, where a string of terror attacks has sidetracked the Trump administration's nascent efforts to get the Israelis and Palestinian back to the negotiating table.
Just hours after a Palestinian terrorist murdered several Jewish civilians, the State Department told the Free Beacon that it is not clear what motivates such violent acts. The statement sparked anger within the administration and on Capitol Hill, where many viewed the State Department's declaration as a sign the agency is openly rebelling against the White House.
"It's no secret that the State Department is waging an open political war, which includes policy insubordination and press campaigns, against the Trump White House," according to one veteran foreign policy analyst who regularly briefs the White House and Trump appointees in the State Department.
"Foggy Bottom is still run by the same people who designed and implemented Obama's Middle East agenda," the source said. "Tillerson was supposed to clean house, but he left half of them in place and he hid the other half in powerful positions all over the building. These are career staffers committed to preventing Trump from reversing what they created."
One of the central points of contention between the White House and State Department has been a plethora of agency vacancies that have yet to be filled. The White House is said to have sent many lists of potential candidates for these jobs, but senior aides to Tillerson have ignored the White House and trashed these lists, according to multiple sources.
This has resulted in key State Department positions remaining unfilled, a situation that has only elevated the roles of former Obama administration officials who still work in the department.
"Those lists [of candidates] literally go nowhere," according to one veteran Republican foreign policy operative familiar with the situation. "It's like a sham process. And the reason is not because the White House isn't behaving professionally. It's because Tillerson isn't professional at all."
The situation has impacted morale within the administration and stoked further tensions between President Donald Trump and Tillerson, who has begun to hint that he will quit his post in the near future.
"This is demoralizing for Republicans, appalling in terms of professionalism, and just depressing for those who know you need a national security apparatus to get things done," said the source.
As key positions remain vacant, Tillerson has begun to rely on Obama-era holdovers who toe a different policy line than the current administration. Sources pointed to Stuart Jones, the acting assistant secretary of state for near east affairs, as just one example of this disconnect.
Jones, a career foreign service officer who has held many postings in the Middle East, has emerged as one of Tillerson's go-to advisers on the Middle East, a region where the White House and State Department appear to be pursuing wholly separate agendas.
Sources briefed on the matter cited Jones as likely responsible for Tillerson's erroneous claimrecently that the Palestinian Authority has ceased spending U.S. taxpayer funds to pay terrorists, a comment that officials were forced to walk back after heavy criticism.
"Tillerson should have spent time and effort working to help the president undo the Iran deal," said one GOP insider briefed by administration officials on the situation. "Instead, he's apparently spending time and effort trying to prevent the president from undoing the Iran deal. And in the meantime he's elevated the Arabist bullshit artist Stuart Jones to a position of influence in the building—a guy who was perfect for the job in the Obama administration."
Tillerson and Jones also raised eyebrows earlier this week when both claimed in public remarks that Russia and the United States share similar interests in Syria, a regional hotspot where the Trump White House has been vocal in its criticism of Russian interference in anti-ISIS operations.
One senior former U.S. official familiar with the situation told the Free Beacon that the tensions between the White House and State Department "go very deep."
"There is almost always some tension between the White House and the State Department, over turf and policy," the former official said. "What's new here is that at both ends there is uncertainty whether the top guy [Tillerson] will stay or go, serious tension with the president, and deep morale problems. You can have a happy [National Security Council] staff viciously fighting a happy State Department staff over everything, but today everyone is morose and doubts go very deep."
Policy differences also have emerged regarding Iran policy, how to deal with the regional impasseover Qatar's terror financing, and the Israeli-Palestinian peace process, according to multiple insiders.
"On Iran they refused to lay the groundwork for tearing up the deal, on Qatar even Obama's holdover ambassador was tweeting criticism of Trump, and on Israel they say we're going to upgrade U.S. relations with the Palestinians and won't even condemn Palestinian terror incitement," said the administration adviser. "Even Trump supporters are beginning to worry, what if the president simply can't make the State Department implement his policies?"
The State Department moved to downplay tensions on Tuesday, telling reporters that Tillerson has no plans on quitting his job.
"We have spoken with the secretary. The secretary has been very clear he intends to stay here at the State Department," Spokeswoman Heather Nauert said. "We have a lot of work that is left to be done ahead of us. He recognizes that. He's deeply engaged in that work."
Tillerson is "just taking a little time off. He just came back from that mega-trip overseas, as you all well know," Nauert said. "So he's entitled to take a few days himself."
The White House did not immediately respond to requests for comment.
---