Every year, hundreds of young Jewish American women choose to leave the Orthodox homes they grew up in and make aliyah in order to defend the State of Israel. 'It's a great mitzvah and an honor to serve in the IDF as a religious soldier,' one explains; 'I wanted to be part of the huge power defending Israel,' says another.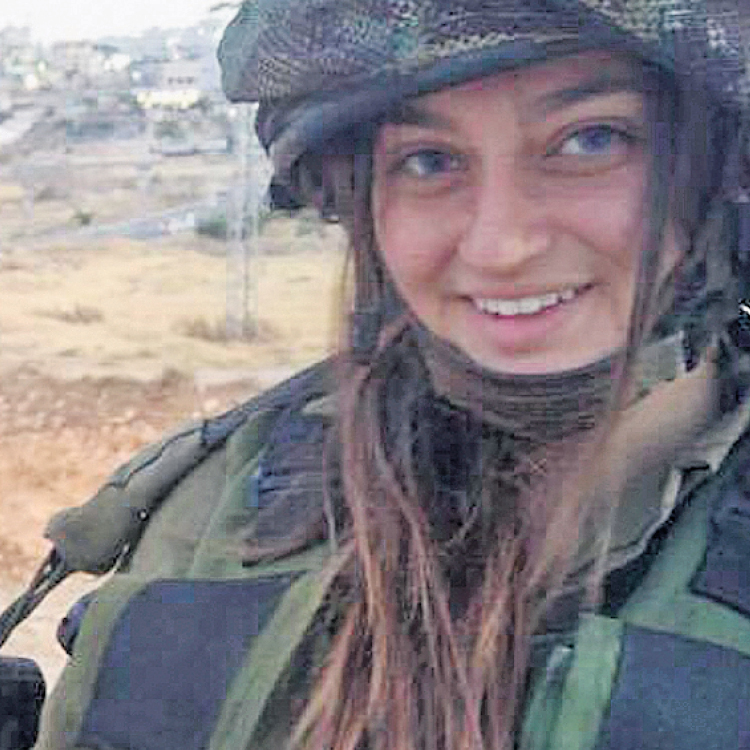 Hannah Defore. 'There is nothing like walking around the city wearing a skirt with the rifle hanging on my shoulder'
Israeli rabbis, with the help of some retired generals, have been busy recently opposing the enlistment of women to combat roles, and perhaps even women's enlistment in general. But while they discuss modesty issues inside tanks, hundreds of young religious women are quietly leaving the Orthodox homes they grew up in and immigrating to Israel in order to serve in the IDF.It began in 2009 with the enlistment of 62 young women from religious homes abroad, and reached its peak in 2016 with 322 observant female soldiers who made aliyah in order to enlist, and there are many more on the way. According to figures compiled by the IDF Spokesperson's Unit, 1,732 religious girls have immigrated to Israel and joined the army since 2009, and the number of women recruits is recording a sharp rise every year.

For Israeli youth, conscription is compulsory, and is sometimes even considered a burdensome duty. For these girls, the enlistment is a dream come true, as 17-year-old Nava Chameides of The Bronx, New York, explains: "I heard about the IDF at school, in summer camp and in my congregation. I met soldiers, I read the news and I watched videos about the army, but it all seemed far away until my first visit to Israel.
"I chose military service over national service because of my first experience in Israel," she recalls. "It was in the summer of 2014, during Operation Protective Edge. During my stay in Israel that year, I felt constantly protected, as IDF soldiers were defending me. That was when I knew that I wanted to do my share to guarantee that the people living in Israel would be safe."
This affinity to Israel is even more surprising when it comes to 20-year-old Ora (Angelic) Jin, who first stumbled upon Judaism when she was a teenager. "My parents were born in Haiti and moved to the United State when we were young. My parents got divorced when I was a teen and my mother felt she didn't belong to the church. She did feel she belonged to the synagogue, and started drawing closer to Judaism. We converted in an Orthodox court when I was 14. Today I observe Shabbat and keep kosher and walk around with a skirt. The idea of making aliyah was born when I went to a Zionist seminar."
Twenty-two-year-old Abigail Balas of New York, who served as a fighter and commander in the Artillery Corps, provides quite a calming answer to all these fears, precisely because her service as a commander and fighter challenged her lifestyle as a religious woman.
"My job in the army was a 24/7 operational job. Work didn't stop on Shabbat. There is no option of observing Shabbat one hundred percent in the position I served in, but it never challenged my religiousness or made me consider to stop being religious."
Did you IDF service affect your religiousness?
"It strengthened me even more, but I feel you have to be stronger. It's not for everyone. I didn't wear a skirt. At the reception base, they told me to hurry up and 'grab a pair of pants.' It was complicated, but I'm a fighter, and if I fight so a girl is allowed to wear pants. I have a fighter's certificate, and people would think I was weird if I walked around with a skirt and a weapon."
Things were much easier for 18-year-old Maya Burjak of Boca Raton, Florida. She has an older sister who has already immigrated, and besides, she expects life in Israel to make a few things simpler in some aspects.
"I have been thinking about immigrating to Israel since I was nine. The number of female religious soldiers is growing, the stigma against religious women in the army is decreasing, and we live in a liberal world. The biggest dream is to serve in the IDF and start a family, and it's easier to meet a Jewish boy in Israel."
---